Many women eagerly await this day, not only because they get to celebrate their love but also because many get showered with amazing gifts from their significant others.  While flowers, especially roses and chocolates top the list, jewelry runs a very close second.
When it comes to love, a more universal symbol than the heart does not exist. I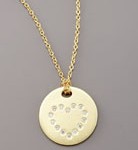 t is for this reason that heart form jewelry is one of the most popular gifts among people who love each other. Heart jewelry remains a symbol of care, love and profound friendship.