Rose gold has been increasing in popularity over the past few years. It works well with almost all the spring color clothes, especially with purples, pinks, shades of browns and neutrals, not to mention soft greys which perhaps falls into the neutral tones for Spring category.
Other fine jewelry trends to keep an eye on are pearls, yellow gold and saturated gemstones, bold statement necklaces, medallion pendants and pieces composed of eco-friendly materials like wood, bone or stone. Another popular look is that of layering longer necklaces with shorter ones to give that consistent flow.
The bottom line is to remain original by making whatever you wear your own! HAPPY SPRING!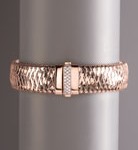 Tags: rose gold, spring jewelry trends